I almost forgot!  I wanted to go to the Grilling Goodness Party today!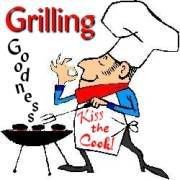 Each Friday, Tina posts questions, answers, and a Mr. Linky so that we can play along and get to know other bloggers better. 
Here is the list of questions along with my answers for this week:
1. What's one of the best things you've seen lately?  I'm going to go with a family movie.  Bolt was really cute.  our whole family enjoyed it, and there were a couple laugh out loud moments that my husband and I just about split a gut over.
2. Has Spring brought you something you don't like?  Cold weather and snow.  I'm anxious for flip-flop weather to come and stay.
3. What kind of sandwiches do you like?  My favorite is an American Hoagie from a Pennsylvania Deli called Nuse's.  Every vacation when we head east, we eat there several times.  Just thinking about it gives me a hankering…and you just can't get a good hoagie in Indiana.
4. Do you carry GermX with you at all times?  Not with me.  But we do carry a bottle in each car.  We usually wash up after shopping trips.  NOT that it has helped protect us from everything that comes along.  We've had our fair share of the colds this season.
5. Does each person in your house have their own hamper or do you have a central hamper for everyone? We have two.  One for our room (which our youngest uses), and one for our older boys to share in their room.
6. How often do you balance your checkbook?  My husband does it roughly once a month.  But that's a hard one, because we do very little with checks, yet check our balance often online. 
7. What's the hardest thing you've done lately?  I've been trying to sort through the pros and cons of requesting early entrance for my little guy to kindergarten next year.  He misses the cut-off by ONE day.  He wants to go, knows his letters and numbers, and even some words, but maturity-wise, he's still a young four.  Having taught, I know how much difference the gift of an extra year at home can make in how well little boys (especially) do in school.  So, I'm leaning towards NOT sending him.  But my mind hasn't settled the issue yet, and we are still discussing it and praying over it.
8. Are you a texter?  No.  I've sent them in a pinch.  But I certainly don't live by them.  My husband made it possible for me to type texts to his phone from my computer since he is often unavailable, and that is pretty easy.  But I have no patience to type stuff into my phone using those teeny tiny buttons. 
Am I showing my age??