Look! Do you see him? What a thrill to see our first Robin of the year!
My high school bus driver used to make a grand occasion out of seeing her first Robin of the year. Driving a full size bus on the snowy back hill roads of Pennsylvania will do that to a person!
But even here in Indiana, where we don't have as many hills and not nearly as much snow, seeing a Robin still makes me smile and thank the Lord. I love spring!! And this little bird just told me its on its way!
The three grand essentials of happiness are something to do, someone to love, and something to hope for.
I'm thanking God for all the
little
things today, including this
little Robin
and the hope he brings of
Spring
!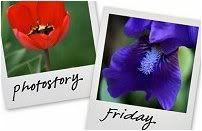 Hosted by Cecily and MamaGeek